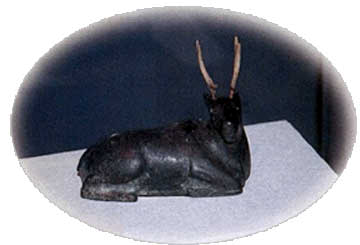 The carving that started an Appreciation of Inuit art.
Photo by Chris Fournier,.

This is the carving that launched the phenomena of Inuit art, which captured the imagination of the world.

It was given to James Houston in 1948 by a man named Nayoumealook at Inukjuak in Arctic Quebec. Inspired by the work, Houston went on to organize carving programs in communities across Nunavut and Arctic Quebec, and helped establish the network that brought the work to the rest of the world.

This carving is now on display at the Museum of Civilization in Ottawa as part of he exhibit Iqqaipaa (Inuktitut for 'I Remember') ,which runs until January 30, 2000.
Taken from UP HERE magazine