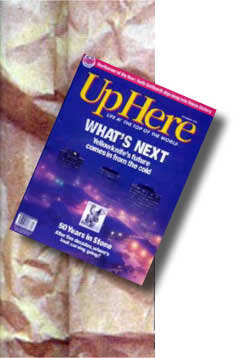 Since 1949, Inuit carving has been an ambassador of the Canadian Arctic to the world. Now finishing its fifth decade, some carvers wonder what the future holds for their art.
Sam Pitsiulak began carving when he was six or seven years old, working, perhaps playing, with snow and ice. It was the early 1960s and Inuit art, carving in particular, had captured the imagination of collectors across Canada and around the world. The enthusiasm for the form seemed boundless. It was certainly deep enough to touch a child living in still remote reaches of the Arctic
At the age of eight, while living in an outpost camp a few miles from the south Baffin community of Kimmirut, Pitsiulak picked up soapstone for the first time and fashioned a series of eight small sculptures of seals and birds. Pleased with his work, he brought the carvings to the store in Kimmirut, which paid eight dollars for the collection one dollar per piece. He spent the money on, among other things, some 22 long rifle shells and a much admired bow and arrow that belonged to a friend.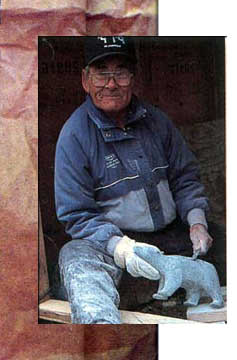 "An eighty year old got eight bucks for eight carvings," Pitsiulak says today, his laugh crackling in the static of the long distance line to his home In Kimmirut. "Holding all eight bills, I felt like a millionaire."
The first experience with carving was a taste of things to come, both the satisfaction of creating beautiful objects and the financial rewards they could command. Pitsiulak began carving seriously in his late teens, gaining attention by his mid 20s with carvings of Canada geese in green soapstone with black necks and white ivory or marble inlays. He also became known for killer whales in black stone with inlays. One was presented to a member of the Vancouver Canucks a few years ago. Now in his 40s, he remains a well known carver and respected artist.
Kimmirut is a small settlement of 400 people about 100 kilometres south of Iqaluit. founded as a Hudson's Bay Company trading post in 1911 and later the site of an RCMP detachment, it has a history typical of Nunavut communities Inuit people began to settle here in the 1960s, coinciding with the opening of a school and nursing station as well as canine epidemic that took its toll on the dog population and made life on the land more difficult.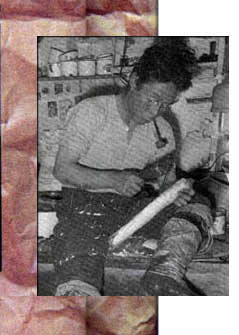 Like most communities in the Canadian Arctic, it has had little in the way of a sustainable economy. It did, however, have a supply of soapstone which local artists have fashioned into distinctive carvings. In its heyday, in the 1970s and into the early 1980s, carving brought a kind of economic stability to the community. Once the stone had been quarried and the tools acquired, a good carving that took two days to make could sell for as much as $1700, Pitsiulak recalls. "It was something like the gold rush... Everybody was carving and getting a lot of money for it."
Pitsiulak is fortunate his first experiences occurred in that heady period. A youngster with a handful of birds and seals today may not find himself feeling like a millionaire, Last summer, a sign appeared in the window of the local Northern Store, one of two principal buyers of carvings in the community (the other being the Kimik Co-op). It was nothing special in itself, just a printout from a computer. But it carried an austere message an announcement that the store, for the near future, could only buy carvings from two individuals.
Far from a comment on the talent or the vision of local artists, it spoke instead to a marketing problem. Generous buying practices in recent years had led to overstocked inventories of carvings, particularly those done quickly for money rather than artistic expression. The two carvers on the list suggested the styles and standards that other carvers should work to if they wanted to sell their work. The numbers are up now, the store has about 18 people on its list this fall but it's a far, frustrating cry from better days in a community that has supported dozens of artists.
Kimmirut, in fact, is not alone. Earlier this year, Goo Arlooktoo a minister in the NWT's territorial cabinet and the local representative for the carving communities of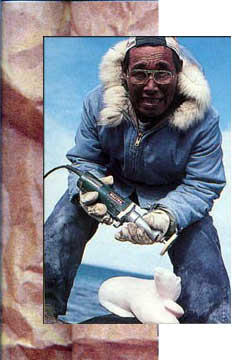 The 1949 show by Houston and the Handicrafts Guild was the event that truly established the modern idea of Inuit carving, and its dual role as an aesthetic expression of a unique world view as well as a means to assist the economy of Arctic communities It was not, however, the first. In 1930, the guild arranged an exhibition of Inuit objects, including some carvings, drawn largely from the collections of the explorers Diamond Jenness and Vihjalmur Stefansson. The Hudson's Bay Company also tried to develop a market for Inuit handicrafts in the 1930s, an effort that sputtered during the Great Depression.
What made the 1949 show different was its recognition of Inuit carving and art specifically as "art" Scheduled for a week, it sold out in three days Its success drew the attention of what was then the federal Department of Mines and Resources, which provided a grant to support Houston on further buying expeditions into Arctic Quebec and Nunavut, which were greeted with similar enthusiasm
Perhaps ironically, the Inuit to that time had no tradition of art among themselves, at least not in a European sense. Originally, carvings were made for utilitarian purposes: combs, fishing implements, lamps, and so on. It was the pervasiveness of stone in the Arctic world that made many of them skilled carvers Using hard stone upon softer stone or later, adopted metal tools men made the implements they needed for hunting and fishing, and sometimes shamanistic objects. Women probably also carved domestic or ornamental pieces All were very small, in keeping with the nomadic lifestyle in which people carried very little between camps.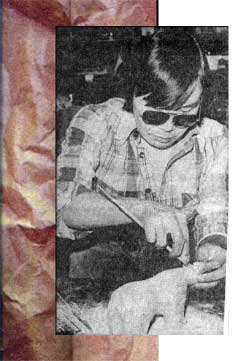 Kimmirut, Cape Dorset and Sanikiluaq delivered a pair of speeches in the legislature warning of trouble in what has come to be known as the "carving industry". Reporting on radio call in shows and public meetings in his constituency, he warned that carving needs help to remain viable. Specifically, he called for increased marketing efforts to combat decreasing sales and prices as well as an education and information campaign to improve the quality and diversity of the work
By summer, local newspapers were carrying stories from frustrated carvers who were having trouble selling their work At the end of October, carvers and artists from around Nunavut gathered in Cape Dorset for a three day conference to discuss the current problems, express their frustrations and attempt to find solutions
While the issues carvers face today are not exactly new, they are perhaps a little more poignant. The year 1999 marks the 30th anniversary of the landmark show coordinated by James Houston and the Canadian Handicrafts Guild that introduced the world beyond the Arctic to the simple elegance, beauty and vision of Inuit carving. Could it be that such an important anniversary also marks the end of an era? That's very doubtful, but 50 years later the world of Inuit carving is not everything it once was.
The concept of art did not begin to arise until it was understood that carvings could be exchanged for other goods. That period arrived with the missionaries, traders and whalers, who bought or traded for carved objects such as incised walrus tusks and small figurines as curios and souvenirs.
Houston's achievement was to go beyond that limited view and encourage people to share his insight. "What James Houston did was really good," Sam Pitsiulak says. "He said 'make something that is in your heart'."
In the years that followed, James Houston and other government arts officers pioneered carving and printmaking in a number of Arctic communities. Cape Dorset developed the greatest reputation, but artists and workshops have flourished in Baker Lake, Arviat, Holman Island, Pond Inlet, Igloolik and Rankin Inlet. Southern critics and major institutions, meanwhile, took note, recognizing the striking achievements in the 1950s of early master carvers such as John Tiktak of Rank in Inlet and Henry Evaluardjuk of Pond Inlet. During a long period of expansion in the 1950s and 1960s, collections were acquired by major museums, among them the National Gallery of Canada and the Museum of Civilization (formerly the Museum of Man). Private collectors, notably the Toronto-Dominion Bank, became enthusiastic buyers as well, and Canada's public officials purchased hundreds of creations as gifts for VIP visitors.
Despite the attention and growth, Terry Ryan, the manager of West Baffin Inuit Co-op in Cape Dorset since 1960, recalls the earlier years of the carving phenomenon as a fairly peaceful time People still lived close to the cycles of the land Although they took great personal pleasure in creating art, other activities such as hunting were more primary. It wasn't uncommon, Ryan says, to arrive in a camp and find an incomplete carving sitting on rock, waiting for the right time to be finished "There was a certain tranquility in the North in those days," Ryan says. "(A carving) wasn't something you needed tomorrow, so you set it aside."
But that era was not to last Carvers felt the first rumbles in the 1980s, coinciding with the arrival of an economic recession that hit all segments of the art market. Consultants brought into investigate the downturn in Inuit works also warned that the tastes of the art buying market had changed and that wholesalers had acquired large inventories, particularly of lower end works one reported that, at least in dollar terms, the existing stockpiles could meet market demands for the next three years
Efforts through the 1980s and 1990s to redress the imbalance never quite got off the ground, although the market did enjoy some upswing But external factors such as recessions, declines in production from aging artists and even the withdrawal from the market of the first generation of buyers prevented long term stabilization. Nunavut communities, meanwhile, continued to grow in turn, more and more people turned to carving and other arts as a way to pay the bills and put food on the table.
Glenn Wadswortb reaches for his filing cabinet at the mention of some of the negative commentary that has swirled around Inuit carving in recent years He digs out a quote from John Houston, the owner of the Houston North Gallery in Lunenburg NS and the son of James Houston He reads from the catalogue of a recent show of new jewelry by a new generation of Inuit artists: "Each decade, more Inuit gain a living from their art and each decade more journalists predict its death" Wadsworth picks up the theme "In spite of the fact that people think Inuit art is dead," he says, "there's more good art being made and sold every year.
A 20 year collector of Inuit art, Wadsworth today manages the Northern Images store in downtown Yellowknife, one of five across the country. From his busy office, you can see into the gallery's showroom, once upon a time the main floor of the local library. The broad collection of sculptures, carvings, paintings, prints and clothing on display from communities across the NWT carries no hint that the public has lost interest in Inuit carving or Northern arts
"It's a problem of matching supply and demand and you are always dealing with a fickle market," Wadsworth says. More to the point, he continues the market is still there; it's just not the same as it once was.
Indeed, the boom years of the 1960s and 1970s when economies were strong and Canadians took to Inuit carving as a kind of national symbol have passed, disappearing into history for a variety of reasons The first generation of collectors and carvers that fueled the original growth, for example, are no longer active, leaving new generations of collectors and artists to discover each other. The market has also become more sophisticated. Buyers today are not drawn as much to simpler carvings with repetitive themes or styles, a type of carving that is sometimes called the "craft" or "souvenir" market that the makers could once sell for quick cash The inventories that have put the squeeze in recent months on sales by artists is largely populated by these
But the market for, and interest in, finer works remains strong, Wadsworth says. Dealers and serious collectors still clamor for serious art by top artists. The evidence lies in the fact that many artists now sell directly to galleries or other suppliers, rather than through the co-ops and Northern Stores that were so critical to the success of the early days. Inuit art is also featured in many world class galleries, not just in Canada, but also in Europe and Asia. And the very best carvings can still fetch tens of thousands of dollars. In the shorter term, Wadsworth also notes factors that bode well for the market, such as the strength of the American dollar and greying population that has time and money to travel.
Terry Ryan echoes Wadsworth's comments. "The reality check," he says, "is that the market for Inuit art is strong There is nothing wrong with the market for good things There is a market for lesser works, but it gets flooded"
Goo Arlooktoo grew up in Kimmirut during the 19605 and 19705. Now in his mid 30s, he recalls his high school years as a time when some of the people he grew up with had a choice between continuing their education or becoming carvers. He even tried carving himself for a short time, but did not possess a personal talent. His first carving, a bird, earned only $3. His second didn't sell at all Arlooktoo decided to stay in school, attending Arctic College in Fort Smith.
Today, as the elected representative of three communities where carving and art contributes $3 million a year to the local economies, he has a difficult message for his old friends and constituents: "Not everyone can become a carver," he says "In order for the market to stay alive, only real artists and the really good carvers will be able to survive. We can have a lot of them quite a lot, but not in the numbers we had a few years ago. Some people will have to decide what to do besides carving:
It's not that the world has lost interest in carving. Despite the current concerns, Inuit art has been, and remains, a success story. It has inspired many others, from the so called "fakelore" that attempts to make a quick buck off cheap copies, to the flourishing of native art forms from other places. (When Arlooktoo made his first visit to southern Canada, a school trip in 1977 or 1978, the teacher made a point of taking them to stores that sold carvings from their home community, many by the fathers or uncles of the children on the trip. In many stores, these carvings were the high ticket item," Arlooktoo says. "Beside them were a few moccasins, a few baskets. If I go to those stores today... a carving is not the only thing that will catch my eye if I'm looking for native art.")
But the world has changed, as has carving. The challenge carving faces today probably relates less to its viability than it does to the expectations placed upon the art. It's doubtful "souvenir" or "craft" carving will be as reliable an income earner as it once was. Other opportunities for people have to be explored. Last summer, Sam Pitsiulak and a geologist explored marble and granite deposits around Kimmirut and Cape Dorset, quarrying some of the material to see if it could be made into other objects, such as table tops, tiles and clocks. A display of some early tests in Cape Dorset were well received.
Meanwhile, efforts are being made to improve the promotion of Inuit art and the development of new art form. A new group, the Nunavut Arts and Crafts Association, was founded last summer to promote art and represent the interests of artists. An interim board was appointed during the carvers' meeting in Cape Dorset last October, which is now working on getting the organization up and running.
Officials are also scrambling, Arlooktoo says, to take advantage of a string of upcoming promotional opportunities. World attention will focus on the Eastern Arctic next April when Nunavut officially enters Canada as its own territory. The new legislature under construction in Iqaluit could become a focus point not only for traditional and contemporary works, but also as a showcase for new ideas. Further opportunities flow from the 30th anniversary of the first exhibition sponsored by James Houston and the Canadian Handicrafts Guild.
Finally, government has a role in supporting arts education programs to ensure that future carvers and artists work to standards the market now demands. Nunavut Arctic College runs such programs, which also include business training to help people deal in what is a commercial as well as an aesthetic world.
Sila Kipanak followed in the footsteps of his father and grandfather both renowned carvers from Cape Dorset and took up the art full time in the 19805. He sells his sculptures directly to galleries. "It was good," he says of the industry in the early 19805. "Much better than today. The price was better."
More recently, Kipanak has signed on as one of two instructors on a carving program in Iqaluit to teach students the finer aspect of shaping stone, while trying to instill a sense of pride in themselves and their work. Speaking above the whirring of half a dozen power machines biting into rock, modern tools to make the work faster and easier, he says We're looking to have individuals have more self-esteem." Kipanak gazes at the hive of activity surrounding him. Twenty students ranging in ages from their 20s to their 60s, originally from communities across Nunavut are hard at work. Dressed in coveralls and covered in soapstone dust, they work individually or in pairs on their creations.
It's Kipanak's first stint as a teacher and he's eager for his students to succeed. And what is success? "So they can stand on their own two feet," he says.